Recipe

HEALTHIER CHOCOLATE CAKES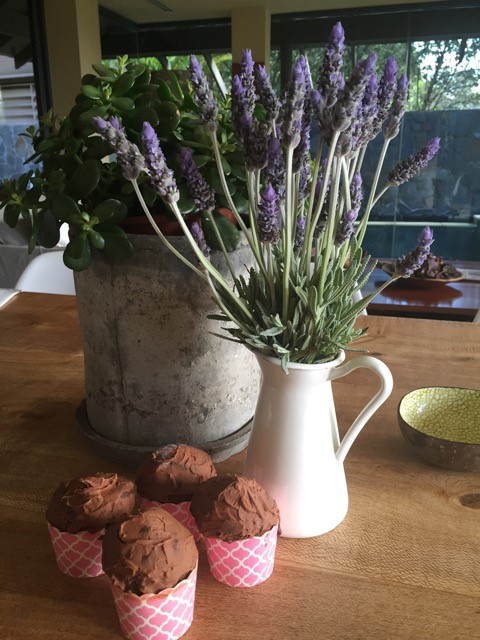 I heat the butters, then mix all of this in the thermomix but you can do on a stove top then in a food processor or mix master too.
The secret of these cakes is to use really good quality ingredients- don't buy supermarket cocoa, real, raw cocoa is a superfood, full of magnesium.
Ingredients
120g organic butter or ghee (as a non dairy option)
120g Power Superfoods raw cacao butter
4 organic eggs
200g organic milk or coconut milk
240g Power super foods coconut sugar (on pantry page at Naturally home www.naturallyhome.com.au )
240g almond meal (or use wholemeal spelt flour or coconut flour for nut free option)
2 teaspoons baking powder (buy a good aluminium free one such as Honest to Goodness brand)
60g Power Superfoods raw cacao (Naturally home pantry page)
2 tablespoons of chia seeds soaked in about half a cup of water.
Method
Preheat the oven to 180C. Lightly grease the base of 2 small ring tins or 2 x 20cm square pan ( or about 16 large muffins- I prefer the muffins as they are so easy in a lunch box.)
Place both butters on low heat in saucepan and melt SLOWLY until liquid ( or melt in thermomix on 60C for 2-3 mins)
Add to mix master or food processor if not using a thermomix.
Add sugar and blend really well as coconut sugar is quite grainy. ( you can whiz it in the food processor or thermomix BEFORE adding the butter to grind it down- I would recommend this)
Add eggs one at a time, blending well after each addition.
Add almond meal and baking powder alternating with the milk until combined.
Add cocoa and blend. ( it's very dusty, so add slowly as it will fly up into your face for an instant tan!)
Lastly, add in the soaked chia seeds and make sure well combined as they can stick together a little.
Pour into cake tin and bake in centre of pre-heated oven for 25-35 minutes and about 15-17 mins for large muffins (check to see if cooked through with skewer, but don't overcook as they dry out and they are much nicer when a little gooey)
Icing (optional)
(I made this up, so quantities are approx, just add more or less to taste)
About 4-5 tablespoons of coconut sugar ( whiz in food processer or thermo to grind it down more into an icing sugar consistency)
Add about 125g organic butter ( it's worth using good butter)
Add 1 tablespoon of raw cacao powder
Add the juice of half a lime or lemon
( add more coconut sugar or butter depending on taste if needs be)
Blend really well until smooth. Can double quantities if want to be super generous with the icing!
Ice once fully cooled. Perfect for lunch boxes.
Enjoy them on their own or heat slightly, then serve with cream and strawberries for a fancier dessert.